This drives me crazy, but I understand it. Just a week or so ago, I was at work and an email about release notes came through (I work for a software company). One of them was an update changing the name of Swaziland to its current name of Eswatini. Although it happened last year, I'm just now finding out about this, and it's taking me forever to get used to it. It's mainly driving me crazy because now it's out of alphabetical order, but they do have a cool flag, so there's that. But it's not the only country that has changed its name since I've started this project (or that I realized changed after I covered it): Cape Verde changed theirs to Cabo Verde and Czech Republic changed theirs to Czechia (which I'm not a fan of because it's so similar to Chechnya). Hope they like exchanging mail like Slovakia and Slovenia do (if that's a real story).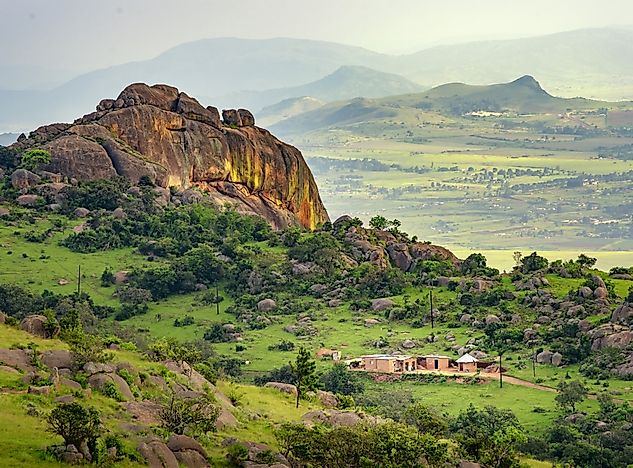 The former name, Swaziland, given to them by the British, means the "land of the Swazis." However, almost exactly a year ago, they changed their name to Eswatini (named after a famous king in their history), in an effort (I feel) to rid itself of its colonial name and align it with more of their native name for their country. I also read that they didn't want it to be confused with Switzerland. (Really? There are people who do this?)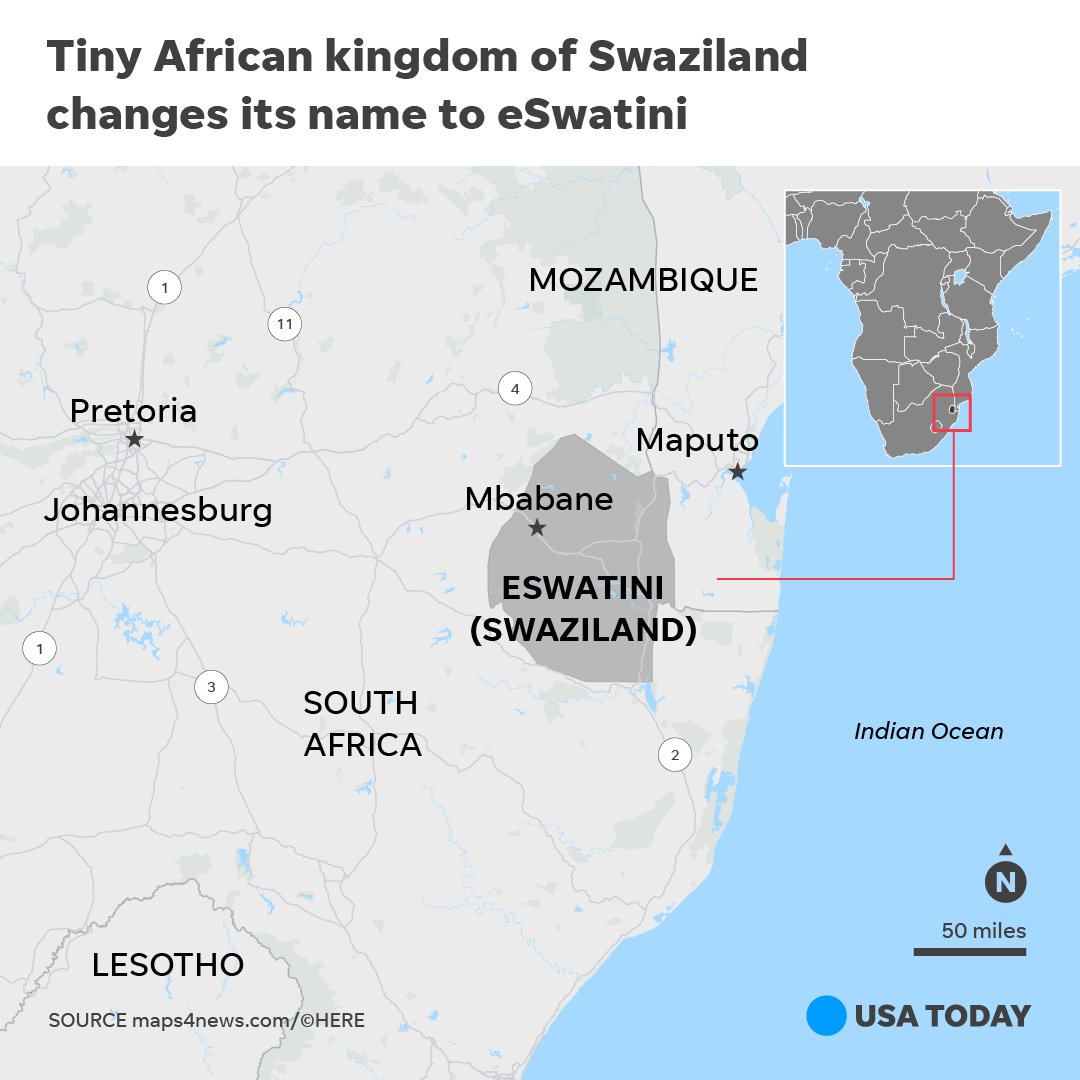 Eswatini (still listed as Swaziland on Google Maps) is located in southern Africa, almost completely surrounded by South Africa except for a border to the east with Mozambique. This landlocked country is quite mountainous with several rivers running through it. Generally, the country is broken into three areas: the highveld (mountainous with deep gorges, lots of cattle ranching), the middleveld (where most of the people live with lower rainfall), and the lowveld (has the least amount of people here because it looks like the bush, perfect for introverts). The climate varies by region and altitude, and their seasons are not really defined by temperature so much as it is by rainfall. And because of its climate variety, it tends to be higher on the biodiversity levels.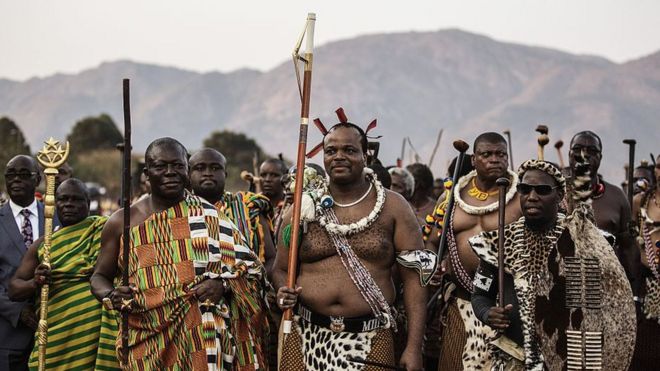 Evidence of people in this area dates back to 200,000 years ago, mostly Khoisan hunter-gatherers before the great Bantu migration moved into the area. The Swazi people settled in around the area along the Pongola River. The country was named for its king Mswati II, one of their greatest kings who was also a great fighter: your regular Bad Boy type. There were many changes in land and autonomy during the 1800s, and mainly at the behest of the British and Dutch who were quite interested in (stealing) their mineral rights. They were placed as a protectorate under the South African Republic during the five years that led up to the Second Boer War. Swaziland was then turned over to the British as a protectorate after the British won the Anglo-Boer war. During these early years, many of its functions were carried out from South Africa, but the British basically divided the country into the European section (about one-third of the area) and the non-European section (about two-thirds of the area). The King Sobhuza II government eventually weakened the British response to the point that the Swazis declared their own independence in 1968. Even after independence, he ended up ruling until his death in 1982, making him the longest ruling monarch in history -- coming in just shy of a whopping 83 years on the throne! During the 1990s, a series of protests and reforms took place, and they ended up rewriting parts of their constitution. Another series of protests and reforms took place in 2011 following the economic crisis.
The capital city is Mbabane, one of the cities that is on my list of "Cities That are Fun to Say." This city is located in the northwest corner of the country in the region of Hhohho (I don't know that I've ever seen two initial h's before, but there it is.). While the country is quite old, its capital is not: this capital was created in 1902 by the white settlers. In fact, the black people here weren't even allowed to live there, even though its named after a local chief who was living nearby. Psht. Before WWII, the country was fairly rural, and it wasn't until after the war that people started moving to the city. The British started building government buildings and a tourism infrastructure. There are a couple of higher education institutions and art galleries and the like. Because of its altitude, it has a moderate climate. Perfect for people who don't like sweat, like me.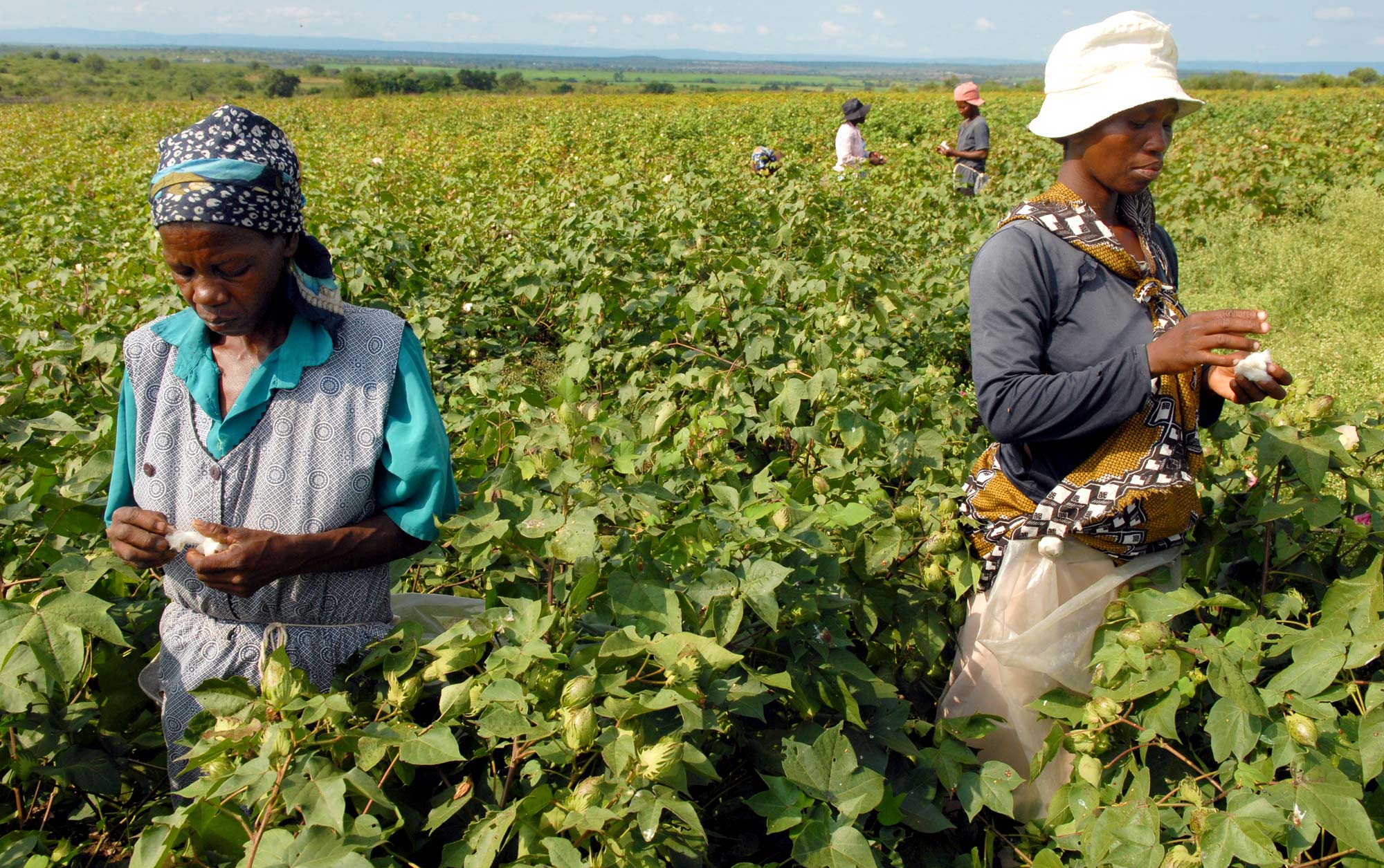 Agriculture makes up the bulk of their economy from subsistence farming to title land deeds (mainly as sugar, citrus fruits, and forestry). Mining and some manufacturing (textiles, products related to sugar production) also add their contributions. And they do rely on a certain amount of tourism, too. Eswatini is part of the Southern African Customs Union (SACU).
A large portion of people in Eswatini adhere to Christianity, mostly as Anglican, a variety of Protestant denominations, African churches, and Roman Catholicism. A number of people still follow their indigenous religions, but they also have followers of Islam, Baha'i, and Hinduism.
Bilingual sign in English and Swazi announcing there are "thugs on the loose."
The official language of Eswatini is Swazi (which is also written several different ways: SiSwati, Siswati, Swati, or Swazi). It's part of the Bantu family and related to the Nguni languages. English is also an official language here as well. And you can hear several other languages in Eswatini: Zulu, Tsonga, Afrikaans (influenced by South Africa), and Portuguese (influenced by Mozambique).
Although Eswatini is not a large country by any means, they are suffering a health crisis like no other: this country has the highest prevalence of people living with HIV/AIDS in the world. Actually the top nine countries are all in southern Africa, but Eswatini comes in highest with 27.2% of the population (ages 15-49) living with HIV/AIDS. This not only tears families apart, but it affects their workforce since over a quarter of their workers are not going to be viable at some point, and that in turn affects their economy as well. And the thing is that that number is just an average: women suffer far more with nearly 31% while men come in around 20%. Education can definitely help, but when they're short on doctors and educators to teach about condom use and advocate for non-violence against women, it's not likely to be solved soon.
Up next: art and literature