Sri Lanka has always stood out to me for one reason but probably not the reason you think. I was always conscious of key aspects of linguistics, but didn't even know linguistics was a thing until I was in college – and then I minored in it. But as a kid I noticed that the initial "sr" combination was not one that is typically found in English. So, naturally it stuck out to me. The only other place I've seen that combination is in the word "sriracha."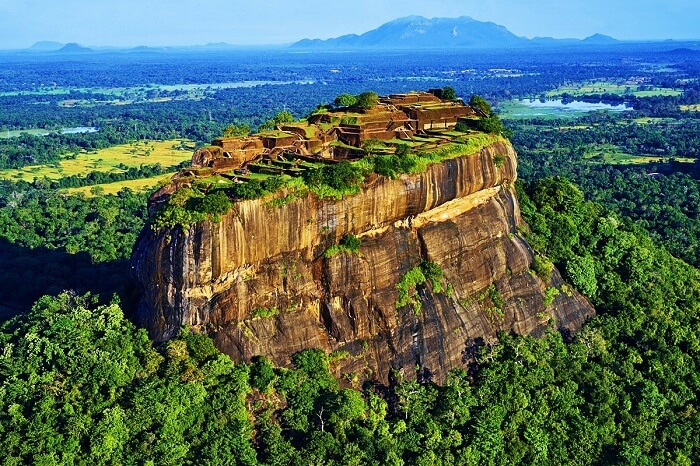 Sigiriya Rock
This island has went by many names, depending on who was talking about it: the first King of Sri Lanka named it Tambapanni ("copper-red earth") while Hindu mythology just referred to it as Lanka ("island") and the Tamil term was Eelam. The Greeks called it Taprobana, and the Persians and Arabs referred to it as Cerentivu. When the Portuguese arrived, they called it Ceilão, which in turn became Ceylon by the British. It didn't change to the Sinhalese name Sri Lanka until the 1970s.

Sri Lanka is a tear drop-shaped island off the southern coast of India. I also think it looks like an avocado. It's separated from India by the Palk Strait. The Bay of Bengal is to the east of the island, the Indian Ocean to the south, and the Laccadive Sea to the west. There's only about 18 miles between Sri Lanka and Indian mainland, and there may have been a land bridge between the two at one time. The climate is generally tropical, but it also varies depending on your altitude. They do get quite a bit of monsoon winds and rainfall to go with it.


Jaya Sri Maha Bodhi tree
The first people arrived on the island about 37,000 years ago. The Sinhalese generally start their history at 543BC when Prince Vijaya brought 700 of his biggest fans with him to the island. Buddhism spread to Sri Lanka, and the Jaya Sri Maha Bodhi tree, considered one of the oldest human-planted trees in the world, is also thought to have come from the same tree Buddha became enlightened under. It wasn't all peaceful though: Sri Lanka would be attacked multiple times by its neighbors. However, they would also become the first Asian country to have a woman as head of state (woo-hoo!). Ancient Sri Lanka held close ties to the Roman Empire, built the first dedicated hospital, and traded cinnamon as a major export. During the 1100s, Sri Lanka began to build an extensive irrigation system, bringing Sri Lanka to a peak in power. Sri Lankans spent much of the time between 1200-1500 fighting the Indians and the Chinese. And then the Portuguese arrived during the 1500s and built the city of Colombo. A century later, the Dutch came to the party, and by party, I mean fighting with the Portuguese and kicking them out so they could set up the Dutch East India Company. A mixed ethnic group between Europeans and Sri Lankans emerged called Burghers during this time. A kingdom centered in the central city of Kandy was the last independent kingdom to hold its own before being taken over by European colonialism. Fearing the French, the British moved in on Sri Lanka with their British East India Company and promoted the coffee industry. The British introduced several changes to their social structure during the 1800s and into the 1900s. But Sri Lanka finally declared its independence in 1948. The first few decades saw quite a bit of political unrest and tension, including an attempted coup in 1962. Things started stepping off during the mid-1970s when the LTTE (a Tamil militant group who wanted to create a Tamil state in the northern part of the country) became active, leading to a civil war that lasted from 1983-2009. It's been estimated that nearly 40,000 Tamil civilians were killed in the war. However, now that the war is over, their economy has emerged as one of the fastest growing in the world.

I grew up knowing the capital as Colombo, yet when I was putting my list of countries together, I found it listed as Sri Jayewardenepura Kotte. I mean, I realize this is the administrative capital while Colombo remains the commercial capital, but couldn't they have picked a city with a shorter name? Like, pick one. Pretty sure that all of them are shorter. Luckily, most people just call this suburb of Colombo simply Kotte. Colombo served as the capital city until 1978 when part of the offices moved to Kotte. This city is now a modern city, yet it was designed to keep people out by building a moat and rampart around it. With about 5 million people in the metro area, this diverse area has several schools and universities, sports venues (association football and cricket are especially popular here, but so is volleyball), large corporate offices, government offices, theatres, museums, and shopping.

Sri Lanka has one of the stronger economies in Asia, coming in second to the Maldives in terms of per capita income. Traditionally, they were known for their exports in cinnamon, tea (the famous Ceylon tea), coffee, sugar, and rubber. And with this stronger economy, they have a higher Human Development Index to go with it as well. Currently, Sri Lanka is working to strengthen their infrastructure and expand their markets into telecommunications, finance, and science-based technologies. They're even working toward their own space program, or at least in coordination with other existing programs.

Because of its geography and history, there are quite a few religions practiced in Sri Lanka. The largest one is Buddhism, and the Theravada form is the most common. Nearly three-quarters of the population are Buddhists. Hinduism is present, which makes sense considering its proximity to India. Islam was introduced by Arab traders, and mostly of the Sunni variety. There is a smaller number of Christians, mostly Catholics and Anglicans with a few Protestants mixed in for good measure.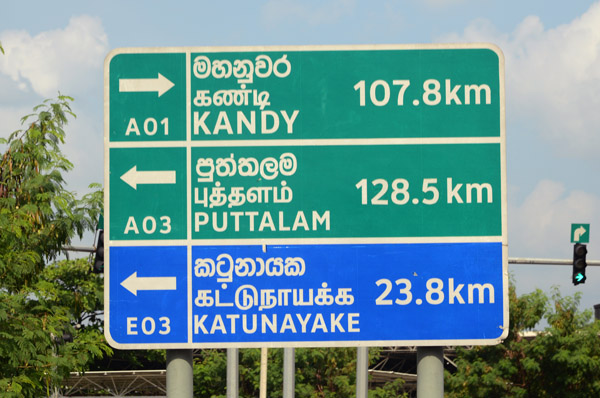 Sri Lanka has two official languages: Tamil and Sinhalese (sometimes called Sinhala). English is also used as a lingua franca and the language of commerce, science, and education. A Portuguese Creole that's mixed with Dutch is used in the Burgher communities. There are some Malay communities on the island that use a Malay Creole.



I've been teaching myself calligraphy, and I like this one.
I love finding out word origins. One word that entered the English language has ties to Sri Lanka: serendipity. The word itself means an unplanned fortunate discovery, or as Bob Ross put it, "We don't make mistakes, just happy little accidents." Horace Walpole, a British writer and politician, coined the word in 1754 in reference to one of the island's former names (as given by the Persian and Arab traders), Serendip. What it specifically was in reference to was a fairy tale about three princes from Serendip who always discovered new things when they weren't looking for it. I often feel that way in a used bookstores or libraries.
Up next: art and literature