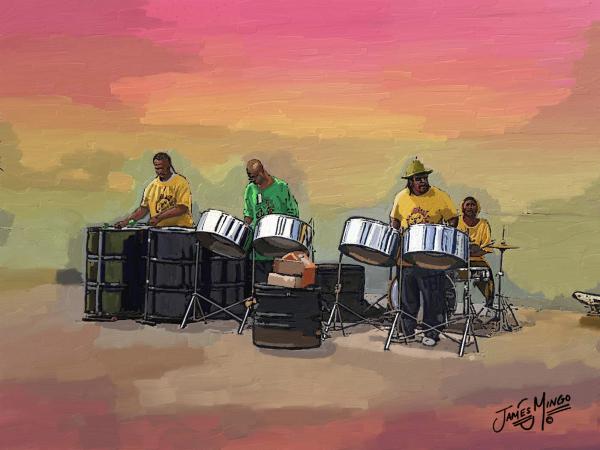 Antigua and Barbuda is an artist colony of sorts.

With its gorgeous scenery, many photographers are based here. There are a number of other types of arts that are popular like textiles, basket weaving, and painting.

But no matter what the type of art it is, there is one thing that is the common denominator between them all, and that's bright colors.

Certain arts use natural materials such as pottery, bead jewelry (and jewelry in general, including gems and pearls) and certain kinds of sculptures.
There are a number of art museums dotting the islands and create a Mecca for artists. One of the largest and most well known is called Harmony Hall, thought of as the center of arts in Antigua by some.

Throughout the year, there are a number of craft, trade, and art shows all over the islands where people can meet and share their arts.
A number of authors have arisen to fame who have originated from Antigua.

Two of the more well known are Jamaica Kincaid and Marie-Elena John.

Jamaica Kincaid was born and raised in St. John's, but now resides in the United States, dividing her time between her home in Vermont and teaching in California. Her first novel "At the Bottom of the River" was published in 1983, and she's written many since then. Some of her more famous novels are "A Small Place," "Lucy," and "Mr. Potter."

I actually downloaded a sample of "Mr. Potter" on iBooks. It was pretty good; I might go back and buy it to finish it. Many of her novels surround life on the island of Antigua, and are pseudo-autobiographical in nature, although she does claim that basically there are many parts that are true and many parts that aren't.
Marie-Elena John is another Caribbean writer from Antigua whose first novel, "Unburnable" came out in 2006. This book is mostly a historical fiction but also a little bit of a mystery novel as well. I read the first chapter of the sample that I got off of iBooks, and I'm intrigued. I think I may have to buy this one as well. Or at least try to find it at the library. She does a lot of work with various nonprofit and governmental human rights organizations and focuses her work on various African nations. She also divides her time between residing in the United States and Antigua.
One thing I noticed in both samples I read and in looking at the art that comes out of Antigua is the attention to detail. But it's not always the meticulously cleaned up detail to make everything right, it's an attention to detail that shows things how they are: like a giant magnifying glass. It's almost as if they are celebrating, or rather conveying, to the world the beauty that is, not the beauty that is in the corrected.
Resources:
Wikipedia: "Jamaica Kincaid" "Marie-Elena John" "Unburnable"
iBook samples: "Mr. Potter" (Jamaica Kincaid); "Unburnable" (Marie-Elena John)