New Year's Day. (January 1.) New Year's is one of the few holidays that is not tied to a religious basis. Marking the official beginning of the year, it is celebrated much in the same ways as elsewhere in the world: food and drink, parties with friends and family, etc.
Boganda Day.

(March 29.)

This day is in commemoration of Barthélémy Boganda, the first leader of the Central African Republic.

He was instrumental in moving the country from a colonial state to autonomy.

However, he was killed in a plane crash before he was able to see the country into independence.
Easter Monday.

(Varies.)

The Easter holiday often starts out with a special service at the church or cathedral for the nation's Christians and as with most places, a meal with family and friends follows. This year, the CAR along with its neighbor Democratic Republic of the Congo was one of the subjects for the new Pope's Easter address, in hoping that the fighting between the government and rebels will subside and that agreements could be made.

Easter Monday is a public holiday where businesses and schools are closed and is generally used as a day of rest.
Labour Day.

(May 1.) Labor Day is a day in honor of the nation's workers and is often a time when labor issues are discussed.

While the overall unemployment rate for the nation is around 8%, it's closer to 23% in the city of Bangui alone.
Ascension.

(Varies.) Ascension is the Christian holiday that falls 40 days after Easter.

It surrounds the tradition that this was the day that Jesus ascended into heaven. Special services are held at churches and cathedrals.
Whit Monday.

(Varies.)

Also known as Pentecost, in Christianity this is the holiday that celebrates the Holy Spirit descending to visit the twelve apostles. It's celebrated 50 days after Easter.

Some people attend special services held at the local church. The following Monday is a public holiday where many businesses and schools are closed for the day. This posed to be a somewhat difficult search, because almost every search result was trying to reference the Whitsunday Islands in Australia.

I didn't even know these islands existed, but I certainly know now.
General Prayer Day. (June 30.) This is one holiday where there are a lot of mentions about it, but no information on how people from the CAR celebrate it. I'm going out on a limb and saying that it's probably a day of praying for loved ones, those in need, and for the stability of the country, and any other people/issues that need to be prayed about. I'm sure there may be special church services for this day as well.
National Tree Planting Day.

(July 20.)

Similar and inspired from the Arbor Day traditions in the US, it's a day to plant trees around communities and preserve green areas.

This is not a public holiday, so you better plant those trees on your lunch break.
Independence Day.

(August 13.)

This marks the day in 1960 when the Central African Republic declared its independence from France. It's one of the larger holidays of the year for many of the people. Traditional foods and cultural arts displays are common on this day. One of the common things people look forward to seeing every year is the oral traditions of the Aka Pygmies, a nomadic hunter-gatherer tribe known for its music. I studied their music when I took a world music course as part of the music history courses when I was in college. I'll get more into this when we come to music.


Assumption.

(August 15.)

Assumption is the Christian belief that this was the day Mary ascended into heaven after her death.

It's celebrated differently around the world, but there's not much information out there regarding how it's celebrated in the CAR.
All Saint's Day.

November 1. It's a public holiday in the CAR. Traditionally more of a Catholic holiday, it's a day to celebrate and pay homage to all of the saints, especially the ones who don't already have feast days in their honor. Since schools and many businesses are closed for the day, many Christians may attend special church services on this day.
Republic Day.

(December 1.)

This is the day when the French colony of Oubangui-Chari became an autonomous region and renamed itself to its current name. It's celebrated in much the same way as Independence Day, with the national colors and flags decorating the homes and businesses and streets. Parades with military and community groups and speeches from politicians occur throughout the day as well as other festivities. Dancers and wrestlers are popular acts to perform for the public, and one of the annual events is a dugout canoe (or pirogue) race.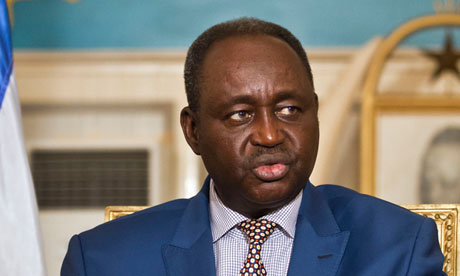 Current President Bozize, who was forced to flee as rebels took over the city of Bangui about a month and a half ago.
Christmas Day.
(December 25.)
For many people Christmas is spent celebrating it with friends and family over a nice meal. Some people may also attend a special Christmas Mass or special church service as well.
While many other African countries partake in the Santa Claus tradition introduced by the Europeans, many central African countries do not adhere to these traditions. But for many, it's just another day simply because they are too poor to do anything special. Fighting in the country has caused such a disruption of normal services, and food is scarce in many areas, especially rural areas. There is humanitarian aid and help from NGOs, but a lot of the time the food and medical supplies are not able to be delivered to these areas where the fighting is more intense.
Up next: art and literature