Most Guineans live in poverty. It's estimated that roughly half of the population live below the poverty line, which is far below the poverty line in the US. Because of this, materials for art are scarce. And for this reason, most of the art coming from Guinea is of practical use. Woodworking art is common, mostly in the form of benches, tables, chairs, tools, and utensils. There are some nice woodcarving pieces; many of these artists sell their works in the markets. Carved figures, reliefs, masks, and ornaments on furniture and musical instruments are probably the most common places to see wood carving.
There are some metal works as well. However, for a country whose biggest export is bauxite and aluminum goods, the vast majority of the people must rely on recycling used cans and such in order to obtain materials rather than having access to the raw materials. (Either that, or they do have access per se, but it's sold a such a high price that the people can't afford it.) Most metal work falls under the categories of tools, utensils, bowls, plates, and similar items.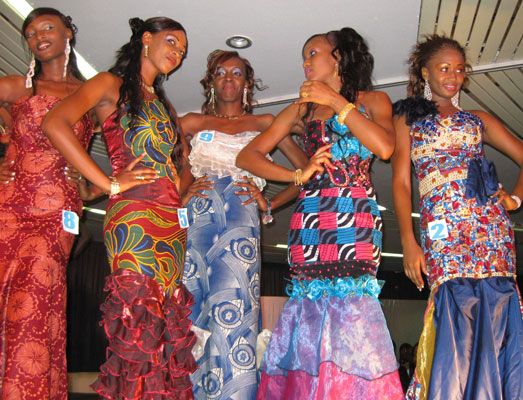 There is also a market for woven goods, mostly made from reeds and straws.
These are usually used to make baskets of all sizes and for a variety of functions, mats, wall and floor covers, etc.
Weavers and dyers who make cloth are always in demand; in much of West Africa, many of the designs are specific to different ethnic groups, and some patterns are geometric in form, often in a repeating pattern. Bright colors are often used, and many times more than one contrasting cloth is worn at the same time.
There are several arts festivals held throughout the year, mostly in the capital of Conakry. Most of these festivals, such as Kini Africa, Macao Arts Festival, and the Festival International Kora et Cordes de Conakry include an array of Guinean visual and performing arts to celebrate their culture.
Like other traditions in West Africa, literature started out as an oral tradition, meaning that stories were passed down by word of mouth.
Written literature wasn't established until after the French arrived, and Guinean literature in French didn't emerge until after WWII when a collection of poems by Keïta Fodeba was first published.
Camara Laye's
L'Enfant noir
was published shortly afterwards in 1953.
Some people viewed this novel with acclaim for its description of the character's inner struggles and thoughts throughout the book, but others viewed it with disdain for its stereotypical view on African life. Despite its mixed reviews, it paved the way for many Guinean authors to write and get published.
Kesso Barry
Although a widely male-dominated field, there have been several successful women Guinean writers emerge with powerful books. Some of these novels fell into the "historical" category, and some are biographies stemmed in Guinean history as well as social commentary. Sirah Baldé de Labé, Nadine Bari, Bilguissa Diallo, Binta Ann, Marie Bernadette Ouédraogo Tiendrébéogo, Kesso Barry, Aïssatou Barry are female writers you should look for.
When I was in high school, I used to keep a collection of quotes and proverbs that I used as my own go-to book when I needed inspiration.
Guinea has also contributed a number of proverbs to African literature that I should add.
Here are a few that I enjoyed (as found on proverbsafricanliterature.wordpress.com):
-- One camel does not make fun of the other camel's hump.
-- Around a flowering tree, one finds many insects.
-- He who has done evil expects evil.
-- He who does not cultivate his field will die of hunger.
-- A cow that has no tail should not try to chase away flies.
-- The toad likes water but not when it is boiling.
-- When a needle falls into a deep well, many people will look into the well,
but few will be ready to go down after it.
-- Knowledge is like a garden: if it is not cultivated, it cannot be harvested.
Up next: music and dance