Guyanese art has a strong influence from Amerindian traditions. Their diverse population is also integrated into the visual arts field here as well. After Guyana gained independence, many artists chose to study abroad, either in Britain, the United States, or other places. And after these artists graduated, it was pretty common for them to come back to Guyana. As they studied in Europe and North America, it opened their eyes to the world. They no longer had to paint in the styles of the colonial days.

Artists were now free to stretch the boundaries of what they could paint, and often looked to their national identity for inspiration.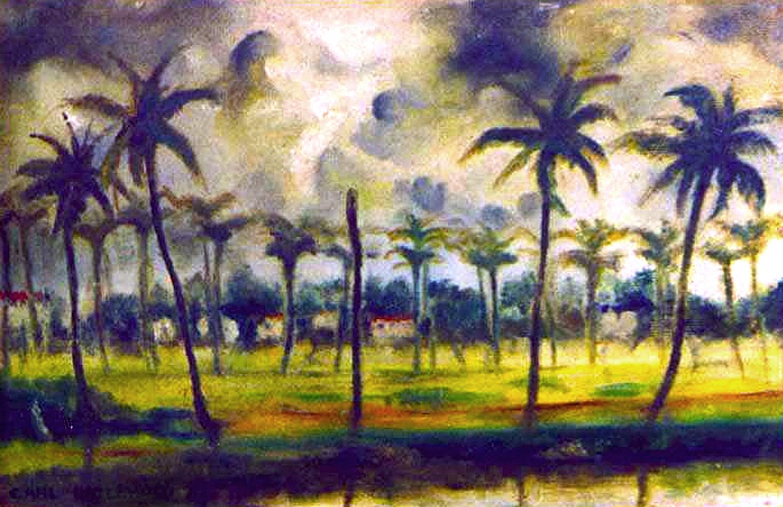 by Carl E Hazelwood
In looking at what many of the popular Guyanese artists were known for, many were attracted to and excelled in abstract expressionism. This style of art emerged during the late 1940s after WWII in New York and had significant followings in the US, Germany, and other areas in Europe. Jackson Pollock was probably one of the most well-known US artists of this genre. It's characterized by all-over designs and often look like someone just splattered paint all over the canvas. So, many of these Guyanese artists took what was popular and combined it with symbols and objects that were notable in the art of the indigenous peoples to create something that was truly their own. With the use of geometric shapes and the contrast between bright colors and pastels, Guyanese art can be quite visually appealing.
by Aubrey Williams
Some of the most famous artists from Guyana include Stanley Greaves (painter and writer), Donald Locke (known for his drawings, paintings, and wood sculptures), Frank Bowling (known for his abstract paintings; was born on Leap Day), Hew Locke (sculptor; eldest son of Donald Locke), George Simon (Lokono Arawak artist and archaeologist), and Aubrey Williams (known for his large paintings that combine abstract expressionism with pre-Columbian themes).
The vast majority of literature from Guyana is written in English. It includes literature from authors who currently live in or lived most of their life in Guyana and authors who emigrated to other countries to live.
One of the first authors to write about Guyana was Sir Walter Raleigh. He was a British explorer, among other things. While traveling to this area during the late 1500s, he wrote a book about his experiences. Typically referred to as the
The Discovery of Guiana
, the actual title is
The Discoverie of the Large, Rich, and Beautiful Empyre of Guiana (With a Relation of the Great and Golden Citie of Manoa (Which the Spanyards call El Dorado) and of the Provinces of Emeria, Aromaia, Amapaia, and Other Countries, with Their Riulers, Adjoyning.
Say that three times fast. I believe it may have won the Longest Title Award of 1596.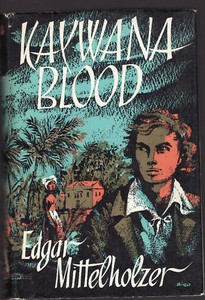 It wouldn't be until the 1940s until author Edgar Mittelholzer would emerge, bringing to the forefront topics surrounding the relationship between the European Guyanese and the non-European Guyanese.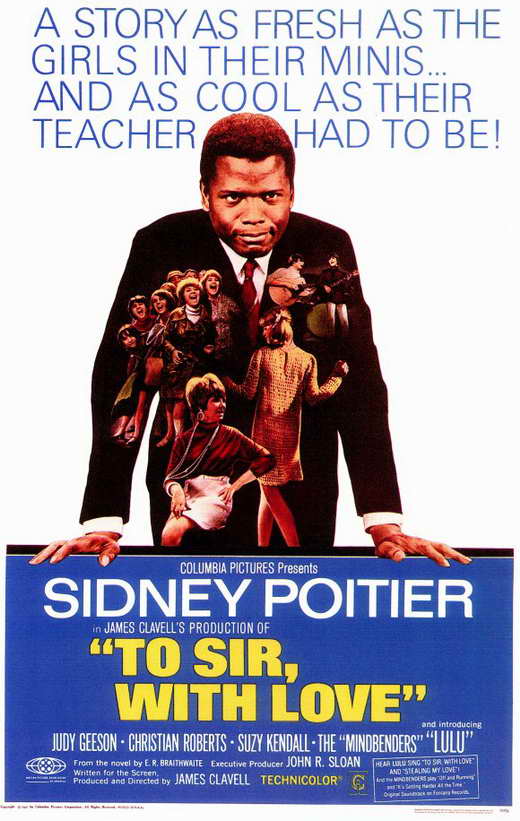 Notice the movie was directed by James Clavell, who wrote the novel Shogun, which I read years ago.
The 1950s—1970s brought forth the first wave of famous authors and poets: E.R. Brathwaite (author, most famous for his autobiographical novel To Sir, With Love, which was later made into a movie starring Sidney Poitier), Wilson Harris (poet, novelist, essayist; characterized by his abstract and metaphorical writing), Jan Carew (novelist, playwright, poet, educator), Roy Heath (novelist), Martin Carter (considered Guyana's greatest poet by many), Walter Rodney (intellectual and historian), and Michael Gilkes (dramatist, filmmaker, educator).
Dr David Dabydeen
(By the way, I think David Dabydeen looks an awful lot like A.R. Rahman, the Indian composer and producer. What do you think?)
A.R. Rahman
The 1980s and 1990s introduced a new generation of Guyanese writers: Beryl Gilroy (novelist, educator), John Agard (playwright, poet, children's lit), Grace Nichols (poet), Jan Shinebourne (novelist), Dennis Adonis (novelist, biographer, journalist, textbook author, children's lit), Cyril Dabydeen (editor, poet, novelist, short stories), Sasenarine Persaud (poet, short stories, novelist, essayist), and David Dabydeen (writer, critic, educator, Guyana's ambassador to China).
Pauline Melville, her father was from Guyana
Several authors have made their way to the top in recent years, such as Pauline Melville (novelist and actress), Oonya Kempadoo (novelist; her father, Peter Kempadoo, was also a writer and broadcaster), and Sharon Maas (novelist).