Surprisingly, Honduras has a very diverse music scene and has always been diverse. It incorporates the musical styles of many of the countries and regions around Latin America and the Caribbean: reggae, salsa, reggaeton, merengue, cumbia, bachata, and others. Punta is one of the most popular styles in Honduras.

Guitars, marimbas, and a variety of percussion instruments are also common in Honduran folk music.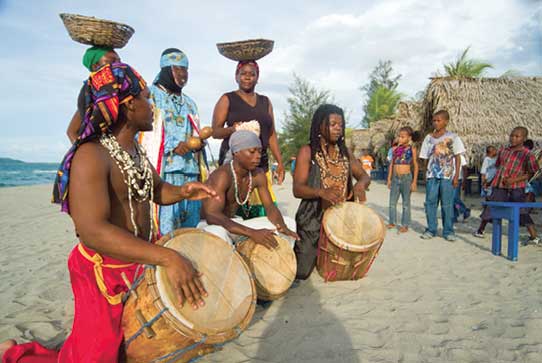 The Garifuna people were African slaves who the British brought to the Caribbean countries and traded them around, only to be freed and brought to Belize, Guatemala, Honduras, and other areas where they intermarried with the native people. They pretty much stayed to themselves; subsequently, their music was not as influenced by outside forces as much as others. They are known for their dominant musical styles of chumba and hunguhungu, which also has a circle dance to accompany its three-beat rhythm.

The Garifuna, like other Hondurans, sing Punta music as well. Punta has a dance that accompanies the music, and almost every community has an area where people can get together to sing and dance.
I found a lot of Honduran bands/groups available on Spotify. In fact, I liked the metal rock band Diablos Negros so much that I bought their album right away. The album Revolución is phenomenal. The song "Ahogame en Dolor" is the best one on the album. Seriously, I love this song. I've played this so many times, and I still haven't got tired of it. Actually, my husband and I were talking about how we celebrated out 10th wedding anniversary a few months ago, but neither of us exchanged gifts at the time. The traditional gift for the 10th anniversary is tin/aluminum.

So, I burned a copy of this album and gave it to him, and said, "Hey, it's Honduran metal music. Close enough." He's been blasting this album in the garage, and I've been blasting it in my car. What we appreciate is that there are moments where they sound like Disturbed, and other moments where they sound like Rob Zombie, and sometimes I can hear a Linkin Park influence, a Live influence, and a White Snake influence. And if you like this band, another Honduran rock band you might like is Delirium. I listened to their album Abismo. It's also a great album that shows some insight on part of the writers.
I'm not quite sure what to think of the band Pez Luna. Definitely on the lighter side of Latin rock, especially compared to the previous two bands. Reminding me a little of Carlos Vives, this band uses the accordion, flute, piano, and a variety of guitars and percussion. At times, it almost sounds like lounge jazz mixed with indie rock. The band Khaoticos is a pretty basic rock band. They weren't horrible, but they just didn't really do much for me. They have a few good songs, though.
The band El Sol Caracol is full of catchy songs, mixing reggae and other Caribbean flavors with rock. Sometimes I think there were still a lot of traditional influences in their music. El Pueblo also mixes reggae with jazz and indie rock into their music. I kind of like their music.

I'm a fan of both reggae and indie rock, so if that's not your thing, then this might not be for you.
Finally, Honduras has certainly made its own mark in reggaeton musicians. I am a fan of reggaeton, believe it or not. I found two that impressed me. The first one I came across is Bullaka Family. They use the autotune a little too much for my taste, but otherwise the songs are catchy. I think they tend to stay on the side of pop-reggaeton, although a couple of songs sounded like Don Omar. The other group I came across is Yerbaklan. I liked them a little better. They also are not afraid to mix other Latin and Caribbean genres with reggaeton. There are a few songs I listened to that sounded like they utilized some styles from dancehall or soca or even pop.