Scene: Sunny seaside. Luxurious yachts. Heartthrob men and glamorous women. It's the rich man's playground. Known for its casino and Grand Prix racetrack, it's the type of place you'd expect James Bond to vacation (partly because three James Bond movies were filmed at the Monte Carlo Casino). However, Monaco is more than this. There are actual non-famous people who live here doing non-famous things. This is their home, and we're going to explore all ¾ square mile of it.

Monaco's name stems from the Greek word monoikos, which means "single-dwelling." Originally, there was a small Greek colony there. According to Greek myth, Hercules visited this colony, and a temple was built there for him after he expelled all the other gods. This temple was called Hercules Monoikos.
This is the second smallest country in the world, next to Vatican City. To illustrate its size, to walk its entire border would only be a little more than 5 miles. It is completely surrounded by France, but it's only about 10 miles from the Italian border. Because of its size, it's the most densely populated country in the world. Monaco enjoys a nice Mediterranean climate due to its location directly on the Mediterranean Sea. Temperatures in the summer stay temperate because of the breezes coming in off the sea. It's pretty rare for it to frost or snow in Monaco; the average temperature in January is only in the mid-40sºF. It's more like a once-a-decade kind of thing. This sounds like my kind of place!
Monaco got its start as a Genovese colony in 1215. And starting in 1297, it was ruled over by the House of Grimaldi. Get used to this name because they'll stick around for centuries to come. The colony became a part of the Crown of Aragon (Spain), and the Grimaldi family purchased it from them. Although they would establish their principality, they eventually became a protectorate of France, which lasted up to the French Revolution. During the 1800s, the people were growing tired of the heavy taxes levied upon them by the Grimaldis. This led to some civil unrest among the people, leading to the decision to give up two cities to France. In 1869, Monaco also made the decision to stop collecting income tax from those who live there (wouldn't that be nice?). The success of the famous casino in Monte Carlo essentially covered the functions of what income taxes had been used for. The Monegasque Revolution changed how princes functioned in Monaco. They were no longer the absolute voice of the government. After WWI, France was given limited control over Monaco. During WWII, the Italians took over Monaco, follow by the Nazis who dispelled all of the Jews. Prince Rainier III assumed control of the throne in 1949 and married American actress Grace Kelly (she ended up getting out of acting and spent her time doing philanthropic and princess duties). When Prince Rainier III died in 2005, he had served for 56 years. Today, his and Grace Kelly's son Albert II serves as Prince of Monaco.
Monaco is listed as a city-state, so it doesn't really have a capital per se. It's similar to Singapore or Hong Kong (how it used to be, rather). There is a ward of the city known as Monaco-Ville (or Monaco City in English) that was once a walled city (some of the original city walls are still standing in places). It now houses the prince's palace among other attractions. The name itself is a misnomer since it's not actually its own city, but just a section of the city-state. The largest ward in Monaco is the well-known Monte Carlo, famous for its casino and Grand Prix racetrack.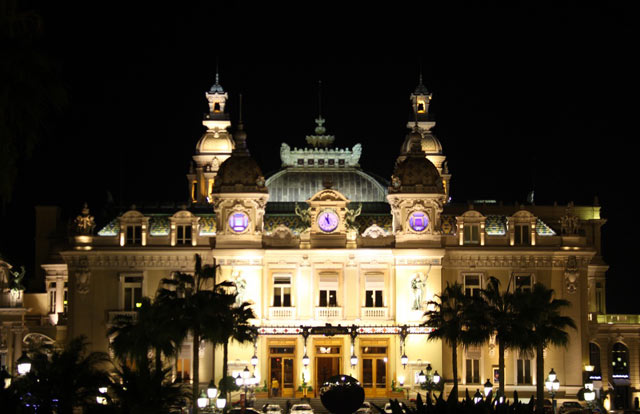 The casino in Monte Carlo. The closest I ever got to Monte Carlo is owning a 1996 Chevy Monte Carlo.
Clearly, Monaco is not hurting for money. It has the lowest poverty rate in the world, the second-highest GDP, and its unemployment rate is estimated between 0-2%. Its largest economic driver is tourism, mainly from its famous casino and its beautiful climate. (However, Monaco's citizens are not allowed to go to the casino to gamble.) It's also known for its banking and financial centers, which has also served as a tax haven for the rich. (We totally MUST keep the rich happy, right?) Although it's not a member of the EU itself, Monaco is closely tied to France, so it also uses the euro as its currency.
Saint Nicholas Cathedral
The vast majority of people here are Christian, and more specifically, Roman Catholic. There are a smaller number of people who adhere to other Christian denominations. Because of its location and history, there is also a small number of Greek Orthodox, Muslim, and Jewish followers in Monaco. However, almost 13% report having no religion.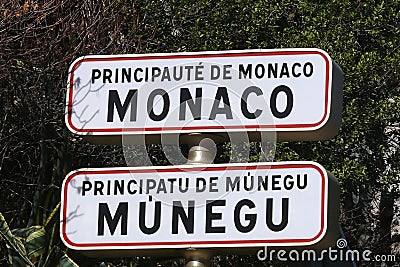 Road signs are often in both French and Monegasque
The official language is French because of its close ties with France. Italian and English are also spoken in communities where there are residents from Italy and English-speaking countries respectively. Their national language is Monégasque, a variety of Ligurian. Ligurian is a language spoken in northern Italy, Monaco, and southern France. It's said that Christopher Columbus spoke Ligurian.
Perhaps, it's a fascination of how the rich live. Perhaps, it's a fascination of tiny, out-of-the-way places. Perhaps, it's an interest in places that have demonyms different from their country name (Monaco/Monegasques), and it makes me sound super chic when I know the proper way to say it. You know what else makes me sound super chic? When I tell people I'm going to cook food from Monaco next week.
Up next: art and literature