Armenian art is something that originates in antiquity. Most of their art, no matter the medium, is full of symbolism – especially Christian symbolism.
Armenia is famous for its carpets. These carpets were woven to not only cover the floors but also to decorate walls and to use as covers for furniture. To learn how to weave is something every Armenian woman would learn to do. Armenian rugs and carpets were not only known for its variety of colors, but it's resistance to fading. Even the oldest surviving knotted carpet (dated from between 5th to 3rd century BC) showed very little signs of fade, but there was noticeable deterioration of the weave itself. From what I've gathered in looking at pictures of Armenian carpets, most carpets will have a border design with a symmetrical geometric-shaped design (or sets of designs) in the middle, usually in a contrasting color to the background. The border design may or may not be a completely different set of colors and designs. They're absolutely beautiful; I'd love to have one of my own.
Another art form that started in the same era was the illuminated manuscripts, especially those of Toros Roslin. His illustrations to Armenian manuscripts have become the baseline that others are compared to, and some of the most famous that have survived to this day.

Fresco painting inside churches and cathedrals were also quite popular and quite extensive works of art.
Most pre-19th century literature was religious and/or history based material. The father of modern Armenian literature is contributed to Khachatur Abovian (1804-1848) whose work The Wounds of Armenia is considered his finest. He was among the first to veer away from the classical form of literature. It's amazing that he accomplished such a title, and he was only 44 years old.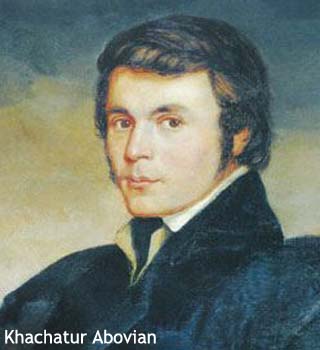 Even after communist Russia took control, traditional-style literature still maintained its popularity despite its highly-controlled and censored publishing practices. During the 1960s, a new class of writers emerged again, becoming more forthright about topics such as communist rule and the Armenian Genocide. Among these writers is Hovhannes Shiraz. His mother was actually killed during the Genocide, and he was given the surname Shiraz (named after the Iranian city known for its roses and poetry, and my favorite: shiraz wine) by novelist Atrpet.
One untitled poem I found on Wikipedia has stuck with me all day. His writing is based in emotion, and his use of various literary devices (such as metaphors, personification, anecdotes) enhances the descriptions. I really enjoyed it; it was something to think about:
In my dreams my door was knocked at,
"Who is it?" I asked from inside.

Some elderly lady from the outside

Answered and said, "I'd sacrifice myself for you."


"I've come to ask for a piece of bread as charity

I'm a poor orphan woman with no one to support me."

At this point I opened my door immediately,

Only to find a miracle; it was my deceased mother indeed!


I was shocked but fell into her arms;

And my mother said, "It's me, it's me,

I've come to try you and to check on you.

I hope life hasn't changed your spirit and also you?!"


I came in the form of a beggar

So that the whole world can be a witness

To see if your conscience, my dear son,

If your conscience also died along with me?!"
I found that the Armenian Research Center at the University of Michigan at Dearborn has a nice collection of Armenian poetry and excerpts of texts translated into English. Please check it out for yourself: http://www.umd.umich.edu/dept/armenian/literatu/
Resources:
Wikipedia: "Armenian art" "Toros Roslin" "Hovhannes Shiraz"