The DRC is rich with art history.
The traditional arts include mask-making and sculptures both made from wood as well as textiles and woven arts that go back centuries.
The art from Kuba culture is probably the most famous as far as traditional arts go. Their famous masks and other carved objects (wine cups, cosmetic boxes, etc) were made of wood, straw, and other natural materials.
Another key characteristic is their geometric designs and elaborate decorations from beads and shells. It's often attributed to the Kuba that there isn't a surface that isn't decorated. Another characteristic (that I think is also indicative of other cultures in this area of Africa) is the red powder made from ground cam wood. They often thought the color red was symbolic for beauty and used it in mask-making as well as painting their bodies with it for ceremonies, important dances, and burial rites.
The capital city of Kinshasa has the only art academy at the university level in the central Africa region. And out of this, many artists teach courses or got their start there (or perhaps both). Some of the famous contemporary artists from the Democratic Republic of the Congo include painters such as Chéri Samba, Lema Kusa, Roger Botembe, Nshole,
Henri Kalama Akulez, Mavinga, and Claudy Khan.

Bodys Isek Kingelez made his mark in cardboard sculptures; other sculptures include
Alfred Liyolo and
Freddy Tsimba.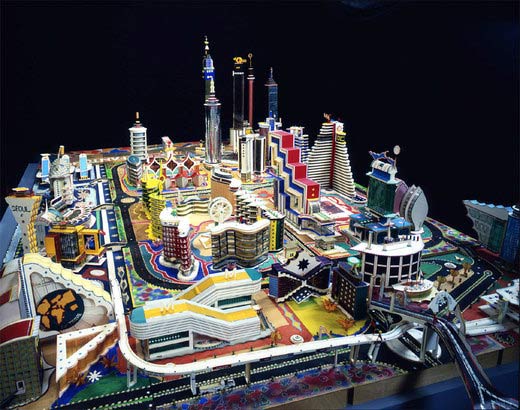 by Bodys Isek Kingelez
The literature of the Democratic Republic of the Congo is for the most part written in the French language. One thing that I noticed is the number of female novelists, journalists, playwrights, and poets there are in the DRC. Clémentine Nzuji is considered the first female writer and poet, emerging right after the country declared independence. She helped pave the way for other female writers such as Léonie Abo, Amba Bongo, Maguy Kabamba (who taught French at a high school in Texas for a while), Kavidi Wivine N'Landu, and Kabika Tshilolo. V.Y. Mudimbe is a professor and author of poems and essays on African culture. Sony Lab'ou Tansi was a playwright, poet, and novelist who was the recipient of several awards. He died at the age of 47 from AIDS. I also noticed that several of these writers were educated and have/are teaching at the University of Lovanium, a Catholic Jesuit university in Kinshasa.
Clementine Nzuji
The DRC also has a cinema scene.
It's not really that big, per se, but it exists.
Years of civil war have put a lot of production on hold for long stretches of time.
The first major full-length film produced here was called
La Vie est Belle
(1987) and directed by Mwezé Ngangura.
Léonie Abo's autobiography
Une Femme du Congo
also was made into a film.