It took me a lot of time to figure out how to start this post on Ghana. I had only a vague knowledge on the country – somewhere in Western Africa… remnants of stories about someone knowing someone who visited or lived there… Why is this so vague in my mind? Why don't I know more about this country than I should? Why am I drawing such a blank? And when I read up on the country, it was like I never knew the country before. It was an epiphany, you might say.
The word Ghana is derived from a title that was given to kings of the Ghana Empire, meaning

"Warrior King." (Even though this empire was actually located north of what is now Ghana.) The country of Guinea also derived its name from the same source. (I'll get to Guinea in a couple of months.)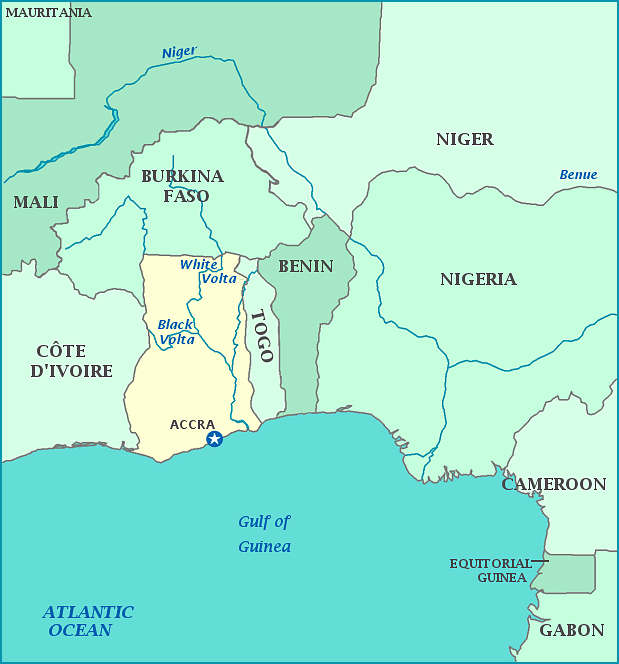 Ghana is located in West Africa, surrounded by Côte d'Ivoire to the west, Burkina Faso to the north, Togo to the east, and the Gulf of Guinea to the south.

Ghana lies only a few degrees north of the equator, and the Prime Meridian runs through the city of Tema, an important port city.

In fact, the country is only about 382 miles from the 0º, 0º center coordinates, which is actually out in the Gulf. Ghana's landscape varies between grasslands, low hills, waterfalls, rivers, and islands. Their tropical climate is generally divided into two seasons: dry and rainy.
Denkyira sword demonstration
Five kingdoms (Ashanti, Akwamu, Bonoman, Denkyira, and Mankessim) were collectively known as the Akan Kingdom, and they were among the original peoples to inhabit what is now known as Ghana. In the 15
th
century, the Portuguese were the first Europeans to arrive and renamed the area Portuguese Gold Coast because of the amount of gold that was there. By the end of the 1500s, the Dutch arrived and settled their own aptly-named Dutch Gold Coast. The Swedish and Danish followed and guess what they called their fortresses? Go on, guess. Yep, Swedish Gold Coast and Danish Gold Coast. (See a pattern? Not very original here.) In the 1600s, the Germans, not wanting to be left out, set up the –you guessed it– German Gold Coast (sometimes referred to as the Brandenburger Gold Coast). The British arrived, because why not at this point? They established control over parts of these areas during the late 1800s and named it something completely different. Just kidding: they called it British Gold Coast. The Akan peoples fought against the British for many years, and the British people finally granted the Ghanaians their independence in 1957. Their first president, Kwame Nkrumah, expanded pan-Africanism and incorporated the teachings and lessons of Dr. Martin Luther King, Jr., Marcus Garvey, and W.E.B. du Bois into their policies. There have been some shaky times in Ghana's political history, but it's been fairly stable in recent years.
Accra, whose name is derived from the word for "ants," is Ghana's largest city and center of government. Located on the Gulf of Guinea, Accra is the 13th largest metropolitan area in Africa.

Accra was once the capital of the British Gold Coast, and after they gained independence, the capital remained where it was. Modern skyscrapers intermingle with classical European architecture; the city enjoys many modern amenities, such as shopping malls, universities, theatres, sports arenas, museums, libraries and is a center of many local and federal government offices, international businesses, and the Ghana Stock Exchange.
Pure gold. I'll take that, please.
Ghana has one of the quickest up-and-coming economies in Africa, especially in sub-Saharan Africa.
They are using their gold reserves along with partnering itself to the Chinese Yuan Renminbi to strengthen their economy.
Since the 1960s Ghana has invested money in hydroelectric power by the use of dams in the Lake Volta region, and they're also looking into building Africa's second nuclear power plant. Although not necessarily the largest producer of cocoa, Ghana has made a name for itself as a producer of some of the
finest grades
of cocoa in the world. They also have a significant economic impact from manufacturing (especially in information and computer technology), mining (Ghana has the 9
th
largest diamond reserves and the 10
th
largest gold reserves), real estate, trade, and science and technology. Ghana has contributed a considerable amount of money towards space exploration and research to partner with South Africa's National Space Agency. (Someone needs to since the US Congress sadly decided NASA isn't important enough to fund anymore.)
Cocoa beans
The vast majority of Ghanaians are Christian, and of those, the majority is Pentecostal. A smaller, yet significant portion of the population, practice Islam (of those, Sunni is the largest denomination).
Ashanti Twi: top one means "welcome," bottom one means "how are you?"
Because the British controlled the area for so long, English has become the official language of the government, business, and everyday life. However, there are several indigenous languages that are still spoken in the home. Akan languages include Twi (also recognized for literacy), Mfantse, and Nzema; Mole-Dagbani languages that are often used are Dagaare and Dagbanli. Other languages that are commonly spoken in Ghana include Ewe, Dangme, Ga, Gonja, and Kasem (not to be confused with Casey Kasem).
Frema Agyeman as Martha Jones in Dr. Who -- I LOVE her jacket!
One of the most famous Ghanaians is Kofi Annan, former Secretary-General of the United Nations (1997-2006). Frema Agyeman, who plays Martha Jones in the new Dr. Who episodes (I LOVE Dr. Who!), is half Ghanaian on her father's side. Idris Elba, an actor in several big-name movies (
American Gangster, Prometheus, Pacific Rim, Thor: The Dark World
) is half-Ghanaian on his mother's side. Peter Mensah is another actor people will recognize from
Hidalgo, 300
, the
Spartacus
series, and
True Blood
. Author W.E.B. du Bois, famous for his pan-Africanism and African-American rights issues in the US, became a Ghanaian citizen after the US refused to renew his passport.
Ghana is home to the largest man-made lake in the world, Lake Volta.

(However, it is only the largest man-made lake by surface area.

The largest by volume is Lake Kariba, on the border of Zimbabwe and Zambia.)

The lake provides a thriving fishing industry as well as a logging industry in submerged forests and other tropical woods. But this tropical location also yields amazing tropical food.

I've got my recipes picked out, and I'm looking forward to eating.
Up next: art and literature