Irish music is fairly well known throughout the world and especially the English-speaking world. Vocal music has been an intricate part of the musical traditions of Ireland from the beginning. Harps were also very much a part of traditional Irish folk music. There were two different kinds you would see in folk music groups: a smaller harp and a larger one of about 30 strings. Other instruments include the bagpipes (often thought of as iconic in Scottish music), fiddles, a variety of flutes and tin whistles, a variety of other stringed instruments (mandolins, guitars, banjos, bouzoukis), harmonicas, accordions, and concertinas. The bodhrán drum is a type of frame drum that has been popularized in Irish music.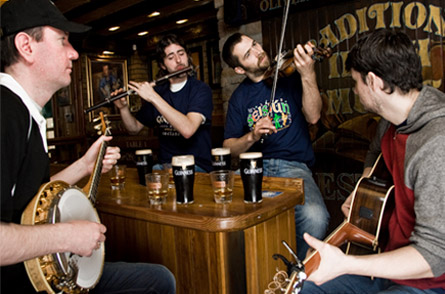 There are several genres of traditional folk music, and one of them is dance music. The three main types of Irish dances are names that may sound familiar, especially to anyone who has studied music. Reels are typically in 4/4 time; hornpipes are also in 4/4 time but are characterized by swung eighth notes. Jigs are can either be single or double and are usually in 6/8 time, but sometimes different kinds of jigs can be written in 9/8 or 12/8 time as well. Melody is far more important in Irish music over harmony, which is generally kept fairly simple with common variations. Other dances originating in other countries were also fairly common in Ireland as well such as polkas, waltzes, mazurkas, and other dances. Irish stepdancing became familiar on a global scale, especially with the popularity of Irish-American Michael Flatley and Riverdance during the 1990s.
Of course, Ireland produced a large number of classical music composers starting in the 16th century. Most of the names are largely unfamiliar outside of Ireland and perhaps the UK and outside of musicologists; however, many Irish composers were the teachers and inspirations for other more notable composers such as Handel and Chopin.
There were so many Irish bands listed that it was really hard to narrow it down to just a handful of bands to add to my playlist. There were many who I have already heard and loved, and there were a few who I didn't realize were Irish (I went through this with Australia and Canada, too). And of course, I added a few new bands in the mix too. So, let's start with my old favorites. Of course, number one is The Cranberries. The album No Need To Argue got me through high school along with Everybody Else Is Doing It, So Why Can't We?. In fact during the 1990s, music/CD stores used to sell the piano books to our favorite albums and singles, and I ran out and bought this when I realized it existed. I'm not sure if they still sell those or not. You probably have to order them online now. Of course, I searched around and found it and played a few songs from it. Good times.
Of course, I went through a phase where I really liked U2. I still do like them and their [RED] campaign they were doing a few years ago along with the other socially conscious messages they have. I was probably one of the people who wasn't exactly irately pissed off that iTunes delivered their new album to me for free, because, hey, free music. I definitely think they were better during the 1980s and 1990s, though. I watched this video years ago, and it made a deep impact.
I also used to listen to The Corrs album In Blue quite a bit, but only because of one song: "Breathless." This album has a very typical "1990s pop/rock sound" to it (which makes sense because that's when it was made, duh). Sinead O'Conner is one singer I never got into, although I liked the song "Nothing Compares 2 U." I think her shaved head scared me as a kid.
And then there's Enya. I don't know too many people who didn't have the album with the "Orinoco Flow" song on it, or were at least familiar with the song. It was used in commercials and whatnot. I did stumble across the choral group Anuna. I really enjoyed listening to this, but of course, I'm a little partial to choral music. And of course, I almost forgot about the Clannad CD that was super popular during the 1990s as well. I think my mom may have had a copy. It's quite meditative.
Let's go even farther back: Thin Lizzy, famous for their song "The Boys are Back in Town," are Irish. Van Morrison is also apparently Irish, known for the songs "Brown Eyed Girl" and "Moondance" (which is one of my favorites).
Now, I'll squeeze in a little note about Irish-American bands. I'm including the band Flogging Molly (one of my favorite bands ever) because the lead singer Dave King was born in Ireland. They combine traditional Irish music with rock and a little punk. I absolutely love this band. They're coming to Indianapolis to perform with Gogol Bordello this summer, and I'm sad that I won't be able to go. Because THAT would be the perfect concert. Other bands, like the Celtic punk band Dropkick Murphys, were created in areas of the US with a large Irish population (like Boston) and have used that influence in their music. There's also a Celtic punk band called Pipes and Pints who are from the Czech Republic.
OK, now for a few bands who are fairly new to me. The Pogues utilize the fiddle, drums, flutes, and other traditional instruments and styles and modernized it. The lyrics, as far as I can tell, seem to be told in a story form. The Dubliners is an older band who performs in more or less traditional styles. You can definitely tell that the main part of the music is in the vocal line and the lyrics with the instruments clearly the accompaniment, often imitating the melody line. My high school world history teacher forced us to study the song "Dirty Old Town" and made us listen to it over and over again.
For a little punk/rock, I found Stiff Little Fingers. They remind me a little of Rancid (who I absolutely love!). For a little bit harder of a rock sound, I found My Bloody Valentine. Because of the way their music is recorded, they remind me of the Danish band The Raveonettes with the constant noise/static in the background, but they are harder than The Raveonettes. I liked their sound. Axis Of's music is also on the hard rock sound, but they will contrast their music with variations in rhythms, elements of blues, suddenly switching to acoustic for a few bars, and other style changes. I loved the band The Strypes. My husband and I discussed what genre of music it is, and the best we could come up with is that they took rockabilly and roadhouse blues and garage rock, sped it up, and merged it with rock. I loved the album Snapshot so much, I requested it from the library. I did manage to find an Irish metal band called Waylander that I liked a lot. Definitely in the category of folk metal, which is my favorite genre of metal now.
For a little quieter, more reflective sounding rock, I'd recommend Snow Patrol. The music of Two Door Cinema Club seems to borrow from a lot of styles and subtly merge it all together. At times it sounds kind of minimalist but then it'll sound like a song that Franz Ferdinand passed over. I liked what I heard from them.
And finally, I learned that Hozier was Irish. I was so tired of the "Take Me To Church" song because people went nuts over it, and it became overplayed. My daughter is also not a fan of it but only because some girl she doesn't care for sang it all the time. So, I unfairly judged him for this one song. But I did listen to most of the other songs on the album, and I really like his rock blues style. So, I stand corrected: you shouldn't judge an album based on its radio-play single.