Myanmar's neighbors had quite a lot to do with Myanmar's arts with China, India, and Thailand contributing the most influence. Much of their early arts were tied to Buddhism (and some to Hindu) with images, sculptures, and scenes of Buddha and other key figures. However, the people here developed their own stylistic variations from that of China and Thailand, for example.
There are ten key traditional arts in Burmese art. These ten arts were mainly handicrafts and sculpting: stone carving, masonry, turnery (a type of wood carving where the wood turns on a spindle), stucco relief, painting, goldsmith, lacquerware, woodcarving, bronze casting, and blacksmith. There are actually other arts that were practiced in Myanmar that are not included in those ten, which include textile arts (tapestry making and silk weaving), pottery, gold leaf making, and engraving (especially on gems).
Today, Burmese artists span an array of artistic styles and mediums. Even in their abstract art, more often than not, there seems to be a tie back to their own culture in some way. Many art students study in art schools and art departments throughout Myanmar, while others may choose to travel abroad. Some artists, like Po Po are self-taught (some people are always looking out for Po Po). Some artists like Aung Myint and Aye Ko have had exhibitions across the world.
Literature in Myanmar is mainly written in Burmese. Early literature was mainly centered around Buddhism. The Jataka Tales are one of the major early works. Orthodox Buddhism forbids fiction (this was new to me), so literature tended to be written as non-fiction. Poetry has long been a popular literary form.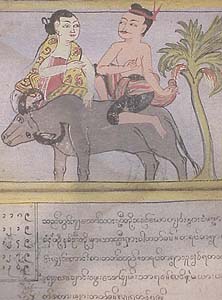 Since the British came, novels became popular along with short stories. However, novels are scrutinized and tend to be harder to publish due to censorship issues coupled with the fact that many people can't afford to buy novels. Those may be some reasons why many writers choose to write short stories instead. Another niche many writers have gone into is translations. Western novels are quite popular, and thanks to the efforts of the translators, these novels are made available in Burmese. (However, there may be some issues with Myanmar not signing the Universal Copyright Convention Agreement, which leads them to not paying royalties to the original authors. I tried to find this information expressly written elsewhere, but I didn't do an extensive search, so help me out with this part.)
There have been several women who have risen to notoriety. Two of these writers include Kyaw Ma Ma Lay and Khin Myo Chit. Other writers worth mentioning include Thein Pe Myint, Mya Than Tint, Kyi Aye, San San Nweh, and Khin Hnin Yu.