Much of the music from Saint Kitts & Nevis has its origins from Africa mixed together with various types of Caribbean music along with some British, French, and American styles. Vocal music is an integral part of their musical traditions, with chanteys and other songs sung for a variety of occasions. A Tea Meeting is a type of performance found in Saint Kitts & Nevis (but also in the Virgin Islands and on Barbados). A chairman and vice-chairman will lead comedic songs and give speeches, often being heckled by the audience.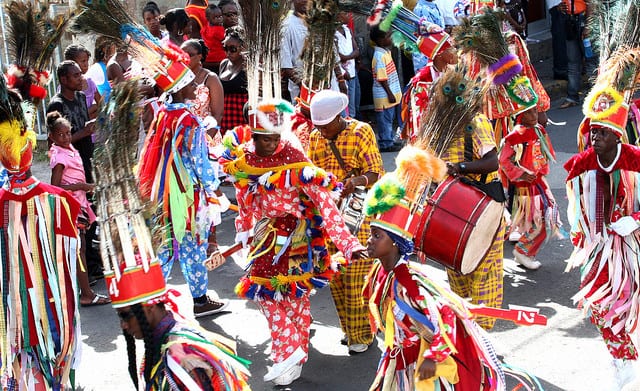 During the 1940s, iron bands started making its way into the islands. These bands consisted of musicians (typically guitars, saxophones, and trumpets) along with a percussion section using instruments made of things they found, like car rims and other metal scrap. This gave way to the steel pan bands of the 1950s and 1960s. Following a Trinidadian tradition, several of these bands from Trinidad were equally popular in Saint Kitts and Nevis. Some of the more popular steel pan bands include Roy Martin's Wilberforce Steel Pan, Casablanca Steel Orchestra, and The Invaders.
By the 1960s, brass bands became known for its role in Carnival music. They not only use modern instruments that we know, but even a few of their own, like the baha (a blown metal pipe) and what they call the shack-shack (a tin can with beads in it – a most descriptive name). Not only is Carnival a festival filled with music, but there are several other music festivals held throughout the year like the St Kitts Music Festival and Culturama held on Nevis. The traditions around Christmas, especially those of parades, music, masqueraded dancers, and stilt walkers called Moko-Jumbies, are some of the best times to watch these iconic music and dance festivals.
Another musical style Saint Kitts & Nevis borrowed from Trinidad and Tobago is calypso music. This musical style was originally used as a means for the African slaves to communicate with one another about the oppression they were facing. Needless to say, it made its way across the Caribbean where many other countries adopted it and made it their own as well. During the 1950s, there used to be calypso competitions on St Kitts and on Nevis. Some calypso bands of note include Ellie Matt and King Starshield.
There are several musicians who share a heritage with Saint Kitts & Nevis, so I thought it would be fair to include them as well. Joan Armatrading is a folk singer who got her start during the mid-1970s. Her main style is folk music, with her playing the acoustic guitar and vocals. I like her style.
Another musician with ties to these islands is Corinne Bailey Rae. I have one of here albums, but I admit I only listened to it a few times when I got it years ago. I didn't tag it for a long time, so I just realized a number of months ago that I had it in my iTunes. It was like finding a new album! I had forgotten how much I like her music. She mixes a little bit of folk, soul, blues, jazz, acoustic, and a little pop into her music. This is her Tiny Desk Concert she gave at NPR. You can tell she really enjoys what she does.
Mel B is probably better known for her role in Spice Girls. I was probably one of the only high school girls in the US who was not gaga over them when they were popular in the 1990s. I was more into Metallica and Smashing Pumpkins at the time (and still am). After Spice Girls stopped being spicy, she went out on her own. I think some of her songs are pretty catchy. This video, however, is weird with stripping in the middle of the street and kissing herself. But you be you, boo.