The earliest art in Dominica was created by the native Carib (or Kalinago) peoples.
Clay pottery was very common for many uses, and they were painted with earth-based natural colors, mostly red, ochre (a yellowish-brown color), white, brown, and black. These dyes were made from rocks, various plants/flowers, charcoal, wood, etc.
Annatto, which is often used in food and gives it a dark reddish color, is not only used in food, but also as body paint as well.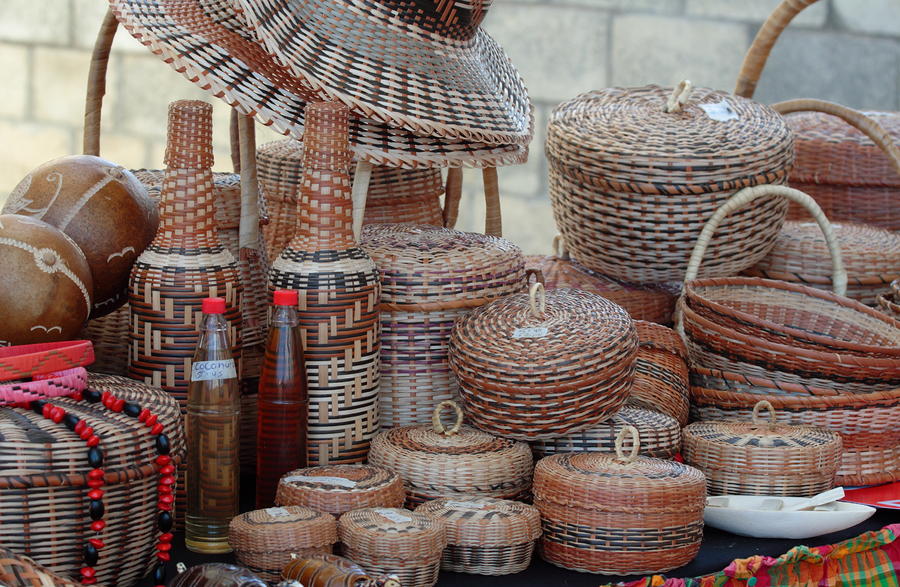 The capital of Dominica is Roseau, which is French for "reeds."
It's not hard to believe that since the French tended to name cities after what they saw in a place (which are reeds), then basket weaving would also be a craft that was done in every family.
Baskets are versatile, and they certainly can make work easier.
But they're also an art form.
Carving is also a common art form in native art as well and can be seen in stone, wood, and bone.

Bas-relief carvings can be seen on the sides of large rocks, which include drawings called petroglyphs.
By Honychurch -- I love this piece!
Today, modern forms of art include painting and sculpture.
Like other art of the Caribbean and Central/South America, Dominican artists tend to use bright colors in their work. Caribbean landscapes, people, and scenes of everyday life are universal themes of Dominican paintings.
Mural paintings and public mural art are also seen throughout the island. Nationalistic themes and scenes depicting a brighter future and the best parts (or overcoming struggles from the past) can be seen throughout the island.
Honychurch at work.
One artist that I came across who thankfully had the most information on Dominican art that I found is Lennox Honychurch, a Dominican artist. There is a lot of information on his website –you can check out his beautiful paintings and murals. Check it out at
www.lennoxhonychurch.com
.
Honychurch also wrote a book called "The Dominica Story" – a comprehensive history of the island. It was originally devised as a mini-series for radio in the mid-1970s, but it's been revised many times for print.

It's available through Amazon, but the sellers on there want a lot for it: the cheapest one I found was $99.51.

I might put in a request for my library to purchase it since I see they don't have it either.
Born in Roseau, Phyllis Shand Allfrey, can trace her family back to landing in the West Indies in the 1660s.

She's most widely known for her novel The Orchid House (1953), she also worked as a journalist and editor for two local newspapers.

Allfrey was also involved in politics as well – founding the Dominica Labour Party and was also elected to the West Indies legislature in 1958 (pre-independence days), making her the only women who was elected to serve in this federation.
Jean Rhys is probably the best-known author to come from Dominica, and her novel
Wide Sargasso Sea
is probably her most acclaimed novel. I have this book listed in my reading list but haven't got to it yet. It's written as a prequel to Charlotte Brontë's novel
Jane Eyre
(which I absolutely loved!).
Rhys was born in Roseau to her Welsh father and her Creole mother (Creole at that time was used to refer to white people who were born on the island, whether they were mixed or not.) When she was 16, her parents sent her to stay with family in England to be educated there.
Her instructors were constantly frustrated that she would never speak "proper English" and her accent often left her out on outside and ridiculed.
She was later "coached" in writing short stories by her friend, English novelist Ford Madox Ford (whose book
The Good Soldier
is on my reading list as well.)