Ah, the day I've been waiting for all week. Not because we're supposed to get our first measurable snow tonight. I'm not waiting for that at all. If it never came, I'd be happy.
No, it's because I'm hungry for Greek food. Even though I never did get to watch
My Big Fat Greek Wedding
again (mostly because Netflix doesn't have it available for streaming, and I forgot to check the library).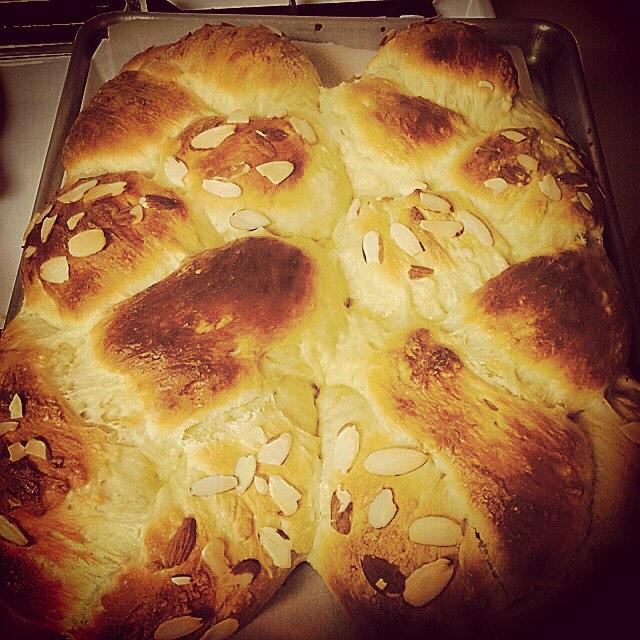 Once I got this right, it was pretty tasty.
I started with making the bread, tsoureki. This is traditional sweet braided bread is typically made at Easter time, but you know, lent and advent rhyme, so it was good enough in my book.
Besides, is there really a time when you CAN'T eat tasty bread? Didn't think so. I started with two cups of warm milk and added a couple of yeast packets, flour, and some sugar. I let it proof for about 40 minutes.
Then I pulled my large mixing bowl out and added in seven cups of flour, salt, sugar, orange zest, and aniseed.
I stirred everything and then made a well in the middle. I poured in my yeast mixture, some melted butter, and five beaten eggs. It took a while for the dough to come together because it was a lot more dough than I'm used to working with. But the smell of the aniseed and orange zest is purely amazing! I oiled my dough and let it sit for about an hour and a half. After that, I divided the dough into six pieces and rolled each piece into a 12-15" long rope.
Taking three stands, I pinched one end together, braided them, and pinched the other end as well, doing the same thing with the other set.
After they were both braided, I carefully laid them on a parchment paper-lined cookie sheet and let it rise for two more hours.
Before putting this in the oven, I brushed each loaf with an egg yolk-milk mixture and topped it with the sliced almonds. It takes about 40 minutes for it to bake. I made the mistake of taking it out of the oven at around 23 minutes because the top of it was already dark brown.
And it generally looked and felt done, but when I finally cut a piece of it after it cooled, there were parts on the inside that was still a bit raw. I threw it back in the oven in hopes to finish baking these parts, but what I tasted was truly, truly amazing. The orange zest in it was the dominant flavor that came out, but it was coupled with a very yeasty smell. I know why this is so popular. I'm glad that I was able to save it somewhat, mostly because it seems like the type of bread that would go well with some English breakfast tea.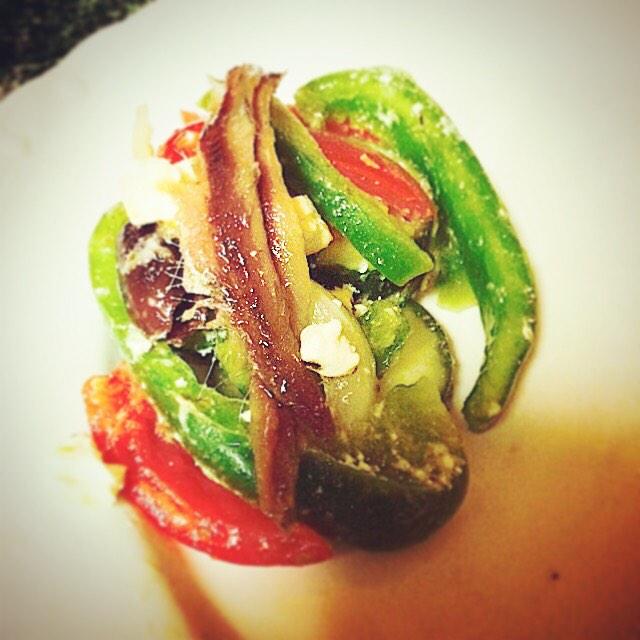 Yep, this just happened.
While I was waiting for bread to rise, I started the Horiatiki Salata, or Greek salad.
I love Greek salads and have been a fan of them for many, many years now. Unlike many places in the US where Greek salads are served on lettuce with a variety of toppings and feta cheese, this recipe is slightly different. For starters, there is no lettuce. I used cut tomatoes, cucumber, green pepper, and onion (it calls for red onion, but I had a bag of yellow onions already).
Then I sprinkled some oregano and olive oil on the vegetables and put it in the fridge for later. Just before serving, I added some capers, Kalamata olives, and feta cheese crumbles.
I even bought some anchovies to top it as well. I liked this because of its simplicity. The anchovies were super salty, as expected, but if you gathered enough vegetables with it, it cut the saltiness just a bit. My daughter came into the realization that she LOVES anchovies.
She even asked for a tin of them for Christmas as a stocking stuffer. I mean, it was only $1.79. And if it's what she wants….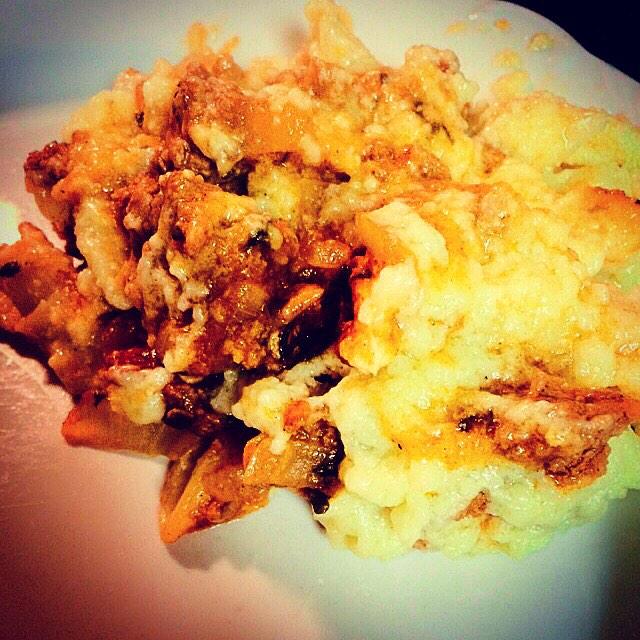 This is what's up. This is the thing, right here.
The main dish for today is pastitsio, which is Greek for "truly amazing." Ok, I made that part up. For this I browned my ground beef (I actually used ground turkey because it was cheaper – I have no idea what happened to the price of beef.), adding some onions and cooked for a bit longer. Then I added in some white wine (I had to sample half the bottle last night just to make sure it was ok. It passed the test.), tomato sauce, parsley, allspice, cinnamon, salt, and pepper and let simmer. While this was simmering, I started my water for my pasta and cooked it like normal. (I used penne, although ziti is acceptable as well.) Then I went back to my meat sauce and stirred in some breadcrumbs to soak up some of the liquid and moved it off the heat. Once my pasta was finished, I rinsed my noodles in a colander under some cool water while melting butter in the original pot. I poured my noodles on top of the melted butter, and I also stirred in beaten egg whites and Parmesan cheese and stirred everything to coat it evenly. So, now I put a layer of noodles on the bottom of my casserole dish and flattened them down, followed by a layer of the meat sauce, then another layer of the noodles.
Now comes time to make the béchamel sauce: I started this by melting butter and adding flour to it until it's smooth. The hard part is to constantly whisk it so that it doesn't scald. Then I slowly added in warmed milk and just a pinch of nutmeg. It's supposed to be thick – thicker than gravy but not too thick. Once my sauce was thick enough, I poured it on top of my noodles and meat, topping with a little bit of Parmesan cheese.
I baked this for 45 minutes, and it was so good. This is what's up. That's all I can say. Even my normally finicky 5-year-old cleaned his plate up. It was the perfect meal for a snowy Sunday afternoon. Of course, it had enough butter to make Paula Dean jump for joy, but whatever. It's certainly not a meal for people who are counting calories.
As I was cooking, I started thinking about how the father in the movie My Big Fat Greek Wedding always took everything that happened in the world and tied it back to the Greeks. But in reality, the Greeks really did do a lot of fantastic, innovative, and life-changing things since the ancient days. I'm certain there is no one alive today who hasn't been impacted by Greek scientists, mathematicians, or philosophers in some way – in fact, much of our own language is based on Greek prefixes and root words. And of course, their cuisine is amazing. Balkan cuisine has always been one of my favorite cuisines, mostly because it's the best of Europe and the Middle East combined. Everything was beyond what I expected – these are definitely do-again recipes. My son already asked me to make the pastitsio for his birthday, but seeing how his birthday is in three days, I told him he better just eat up.