Although the earliest people here, the Carib Indians, were driven away or died there to avoid the first option, they left a part of them behind: their art. The Caribs etched important events of their daily lives into the sides of cliffs, in caves, and other areas around the islands.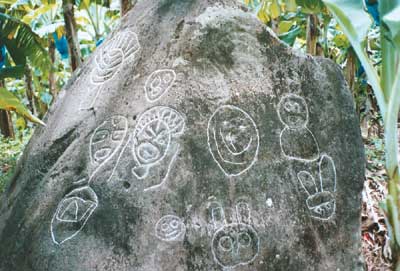 Painting is huge on the island of Grenada. And who can blame them? They have a wonderful backdrop of some of the most beautiful scenery to paint. Whereas most painters typically use canvas as the main medium to paint on, Grenadian artists don't stop there. These artists have been known to paint on a variety of mediums: wood, metal, cloth, bamboo, and even the calabash (a type of gourd). St. George's has several art shows and showcases throughout the year bringing hundreds of visitors to local artists. Some of the most influential painters in Grenada are Canute Caliste, Elinus Cato, and John Benjamin MBE.
by Elinus Cato
Woven crafts are also very popular, especially in the tourist markets. However, items such as hat, purses, placemats, and baskets are also regularly used in the average Grenadian home as well. You'll find most of these items are made from wicker, straw, or bamboo.
Woodcarving is also especially popular as well.

Many of these items are also used in the home, like bowls of all sizes, kitchen utensils (wooden spatulas, wooden spoons, etc.), or furniture. Typically, these items are made from mahogany or red cedar but other types may be used.
As with most other Caribbean countries, jewelry is an art form going back centuries. Known for jewelry made from local materials, black coral and turtle shell are common materials from these islands. Actually, shells of all types are used in jewelry, as well as wooden beads and even paper beads.
Storytelling is at the heart of Grenada's literary traditions. This tradition is closely tied to the African traditions that were brought over during the Slave Trade.

Today, the vast majority of Grenadian literature is written in English, but some of it is in French Creole. Literary festivals, such as Spice Word Literary Festival and Poetry Slam, are held throughout the year to showcase the best of what this island nation has to offer.
Tobias S. Buckell is a science fiction author who was born in Grenada. He is most known for being the author of the sixth book in the Halo series, Halo: The Cole Protocol. As successful as he is as a writer, he suffers from dyslexia.
Merle Collins was actually born in Aruba, but later moved back to Grenada since her parents were Grenadian. She got her bachelor's degree in English and Spanish in Jamaica, her master's degree in Latin American studies in the US, and her Ph.D. in Government in the UK. She has spent many years teaching and was active in the Grenadian Revolution. Collins has published literary and social commentaries, poetry, short stories, and novels.
Gus John is a writer, educator, and social commentator. He was born in Grenada and later moved to the UK where he was instrumental in writing and advising on the problems with the education of minorities. He worked closely with various groups aimed at curbing youth violence and has written many articles and books on the subjects of education, race, violence, the Caribbean, and the inequality persistent in all of these things.