Today, Mauritian artists excel in a number of arts, from photography to painting to sculpting. Their art incorporates a mix of African, Asian, European, and Arab styles and influences.
A number of art galleries are spread throughout the island, and some are quite renowned. The Galerie du Moulin Cassé in the town of Péreybère, which houses the works of Malcolm de Chazal and the nature photographs of Diane Henry, is actually in a 130-year-old sugar mill. The Caudan Waterfront is a great place to buy handicrafts, jewelry, glassware, and artwork from local artists.
Some of the more well-known artists and sculptors include Vaco Biassac, Nirveda Alleck, Véronique Leclézio, Nita Treeboobhun, Devanand Bhungsee, Khalid Nazroo, and Amrita Dyalah. There are several photographers and film directors who have made names for themselves, such as Nazim Sookia, Pierre Argo, David Constantin, Selven Naido, and Tibye Sobha.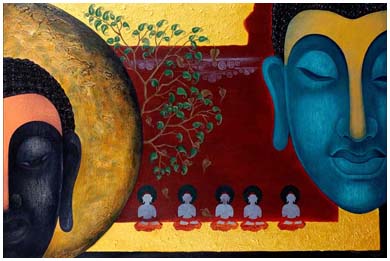 art of Amrita Dyalah
Literature in Mauritius is published in several languages: English, French, Mauritian Creole, and some Indian languages. And although most of the people speak Creole, most of the literature is written in French (probably to make it more marketable).
After the country gained its independence, there was a natural push for nationalism. And with this, some writers also pushed the importance of using Mauritian Creole as a national language. Many writers starting writing in Creole (also called Kreol or Kreol Morisyen or sometimes just Morisyen), like Azize Asgarally and playwright Dev Virahsawmy.
Mauritian literature touches on many important themes that a broad scope of readers can identify with. Subjects such as interracial relationships, multiracialism, and exoticism are intertwined in the storylines of their literature. The dichotomy of old and new ways of life is at the heart of their stories: mixing old superstition in with politics or ethnic issues. There have even been new styles come out of their multi-ethnic communities. One style is known as "coolitude," a a type of poetry that stemmed out of the Indian-Mauritian community.
One writer put Mauritius on the literary map. Jean-Marie Gustave Le Clézio (also known as J. M. G. Le Clézio) is a French-Mauritian writer and professor who was awarded the Nobel Prize for Literature in 2008. Mauritius also as its own Le Prince Maurice Prize which awards the best love story, regardless of genre. The award switches every year between literature written in French and English.
Some of the more well-known authors include Ananda Devi (mix of Indian and Creole, she's an award-winning author), Aqiil Gopee (writer and poet, has published many works and won many awards just since 2011), Marie-Thérèse Humbert (writer, aspiring politician), Malcolm de Chazal (writer, painter), Khal Torabully (poet, first coined the word "coolitude") and Shenaz Patel (writer, one of the founders of the literary journal Tracés).